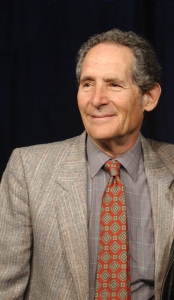 Stanley Dyrector was born in Brooklyn, New York. He joined the US Navy and after serving,  moved to Los Angeles California, to become a movie star.
He studied acting under the GI Bill, where he did plays, and was fortunate enough to get co-starring roles in popular TV shows, including one, in which he played opposite Academy Award Winner, Lee Marvin, in an episode of MSquad.
Stan acted under the names of Mark Douglas and Marcus Dyrector.  Eventually he decided to use his genuine birth name.  While still a young man Stanley turned to writing for television and the theatre.
His TV credits include "Wagon Train", "Slattery's People", etc. When he met and married his wife, Joyce, they teamed up and wrote for daytime TV soaps, on ABC. They also wrote hour radio dramas and comedies for Sears Radio Theatre, and Mutual Radio Theatre.  Back in the day, Stan wrote a 2 act Vietnam era play called "A Pelican of the Wilderness" which LA TIMES critic John Mahoney called "Outstanding."
His award winning interview show called  "The Stanley Dyrector Show" can be seen on The City of Los Angeles' Channel 36, or go to their web site and view library www.la36.org, or check out youtube.com.  Stan and Joyce's,  play  "Marilyn and Phil" is based upon an amusing true story of Marilyn Monroe and a friend of theirs.
Stan's plays, one of which is called "My Night with Barbara Payton" , also based on a true story was performed at the Writers Guild of America West, multipurpose room, several years ago. Another of Stan's plays is "The Other JFK"  based on a true event in Stanley's life. That will be published by One Act Play Depot (OAPD). His book "Shedding Light on the Hollywood Blacklist: Conversations with Participants"  is published by BearManor Media.  Stan will be having book signings in near future at Skylight Books on Vermont, as well as Chevalier Books in Larchmont Village.  Stan's one act plays, "Senior Kiss" and "Ira and Max" was performed at Theatre 40, and starred Ed Asner in both.